Bhanumathi Narasimhan is the Director of Women's Welfare and Child Care initiatives of the Art of Living foundation. She has pioneered several projects in the fields of education, woman empowerment, health & hygiene, for the environment, and for art and culture that has benefited thousands of women from remote, rural and disadvantaged sections of society.
For EDUCATION
The Art of Living Free Schools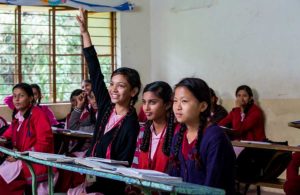 Bhanumathi Narasimhan instituted the "Gift a smile - Care-for-Children" program, which provides value-based holistic education for underprivileged children from rural, tribal, and socio economically backward areas in India free of cost. From a small free school with thirty children of construction workers, The Art of Living Free Schools cater to over 67000 students in 20 states of India, with 618 schools in rural and remote areas.
They are provided textbooks, uniforms, mid-day meals and in some cases transportation free of cost. The practice of yoga and meditation is integrated into the curriculum of the school and co-curricular activities such as dance, drama, sports, arts and crafts, literary competitions, tree planting campaigns and educational trips ensure the all-round development of the child.
Know more or contribute to this project at www.artoflivingschools.org
For WOMEN'S EMPOWERMENT
Vishalakshi Women Empowerment Project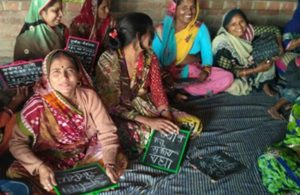 As part of its endeavor to promote economically self-reliant communities, the Art of Living Foundation started the Vishalakshi Women Empowerment Project under the guidance of Bhanumathi Narasimhan. The project aims to provide an alternate means of income for rural women through sustainable activities.
The women are trained in tailoring, embroidery, bead work and other useful skills. Some of the products made by the beneficiaries of this project are jute, cloth and paper bags, quilts, incense sticks, candles, food, sanitary napkins and handicrafts.
A large number of women in rural areas are unable to deal with stress and emotional problems. Our programs are designed to empower these women by providing basic education and skills to make them emotionally strong and financially independent. Currently the project is running in 9 centers in different states of India.
In 2013, the Stree Saukhya Project was inaugurated in the Satara district of Maharashtra to educate rural women on menstrual hygiene as part of the Hygiene Awareness Program . The women were supplied economical and eco-friendly sanitary napkins. More than 5000 women have been educated through over 1000 workshops.
In 2008, the Papanasam center in Tamil Nadu began providing training in tailoring, screen printing, toy making and tea-light candle making. The program has benefitted over 900 women from the surrounding villages.
In June 2014, the Madhya Pradesh centre inaugurated training in a wide range of skills such as beautician training, tailoring and mehendi design. Adult education classes for rural women are also conducted there.
Since April 2017, the Andhra Pradesh centres have conducted tailoring classes for over 126 rural women from surrounding villages.
In June 2018, the foundation for a workshop on embroidery training was laid in Phubala village, Manipur.
VISTA -Value Integrated Services To All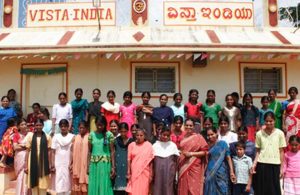 VISTA (or Value Integrated Services To All), an independent non-governmental organization, was started in 1985, by Acharya Ratnanada, the father of Gurudev Sri Sri Ravi Shankar, near Bangalore, to empower illiterate women, abused women, women in poor health and disadvantaged women. VISTA India is a grassroots project that provides vocational training in sewing and embroidery to make them self-reliant. Many of these women find work in the local garment industry; others work from home to augment family income. The women are also taught literacy and given basic knowledge about health and hygiene.
VISTA has instituted a special program called 'Earn while you Learn,' which helps women-in-training take up tailoring orders from individuals and companies. Besides skill training in tailoring, they are also trained in pickle making and production of sweets and savouries.
Over 8000 women from surrounding villages have been trained through this program. Currently 450 ladies are under the program in the VISTA unit in Sirsi, Karnataka.
Bhanu on the W20
Women 20 is a transnational network that brings together women leaders of civil society, businesses, entrepreneurship ventures and think tanks. The main goal of W20 is to influence the agenda of the decision-making bodies of the G20, with a view to impacting public policies in order to increase women's participation in the economies and societies of their countries.
For the ENVIRONMENT
Hara Desh , Hari Prithvi Project
The Hara Desh Hari Prithvi project initiated by Bhanumathi Narasimhan is being implemented in villages through the schools run by the "Gift A Smile" program. It includes tree plantation, No Plastic drives and cleaning camps to spread awareness about health and hygiene. Till date around 4900 saplings have been planted, over 810 cleaning camps conducted and 117 schools and 2,450 homes have been made plastic free across 300 villages in India.
For ART & CULTURE
Weaver to Wearer Project
In support of traditional art and culture, Bhanumathi Narasimhan has initiated the Weaver-to-Wearer project. The project identifies skilled craftsmen in the traditional arts from rural areas and connects them with consumers around the world. Madhurya, a women entrepreneurship initiative inspired by Bhanumathi, provides a platform for marketing these unique hand-crafted products.
Know more about this initiative at www.madhurya.com
For HEALTH
HARA (HIV - AIDS Awareness for Rural Adolescent) Project
Bhanumathi Narasimhan started the HARA (HIV/AIDS Awareness in Rural Areas) project to create awareness and prevention of HIV-AIDS, especially among rural adolescents. Youth volunteers are trained under a qualified medical doctor, they then receive and disseminate this knowledge further in the rural and tribal areas with basic information regarding the disease and its prevention. Over 180,000 individuals across India have benefited from this initiative till date.
THE INTERNATIONAL WOMEN'S CONFERENCE (IWC)
CHAIRPERSON OF THE IWC
As the Chairperson of the IWC, Bhanumathi Narasimhan's vision is to make a global connection of responsible women to catalyze positive transformation in society. The Conference celebrates the dynamism of women and provides a platform to deliberate, share ideas and experiences encouraging the pivotal role of women as agents of peace, development and ethical leadership, for a harmonious and prosperous society.
Since its launch in 2005, over 5000 women from 80 nationalities have participated in these bi-annual conferences hosted in Bengaluru. It draws eminent speakers from diverse spheres, political to business to social, academia, cultural and spiritual, addressing and inspiring the delegation. The conference proceeds support global initiatives for the education of women, prisoner rehabilitation, poverty eradication, female health awareness, eradication of female feticide, environmental conservation, and domestic violence.
Read more at www.artofliving.org/iwc